484th played so far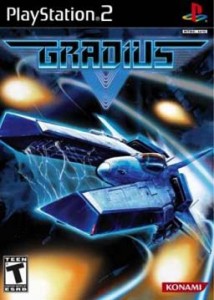 Genre: Shoot 'Em Up
Platform: Playstation 2
Year of Release: 2004
Developer: Treasure
Publisher: Konami
Today we revisit the Gradius universe, a pretty enjoyable shooter that supposedly helped create a weapon bar and other refinements – mostly decent fun really.
The fifth sequel (apparently the best of the series) is quite a bit newer, and from the screenshots it's already clear that it looks more luxurious. A more modern shoot 'em up – something we've been looking forward to.
Our Thoughts
Gorgeous, first of all. As the game has you flying through space, there are several nice objects floating in the background and there's some attention paid to how the levels look. Sure, some are simple, but it just looks so much better than the early 80s shoot 'em ups of the time we've been playing a lot of.
The basic gameplay stays in that area, though, loads of enemies flying at you that you can kill, dropping powerups for your weapons. It's executed well and looks good while doing it – I realise that's the repeating thing, but it's what sets the game apart.
This really shows at the bigger bosses and enemies. They are big, they are imposing and they have loads of moving parts and bits and pieces. I'm sure they would have been possible before, but they seem especially impressive here.
Final Thoughts
Gradius V is, as you can probably tell, not a game with many of its own features. Instead, it's clearly one of the best of the genre (listed as the best of the series in the book – apparently the last main series game in its group) and is a game I enjoyed based on just that.