781st played so far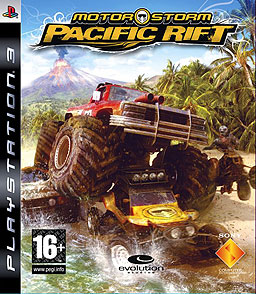 Genre: Racing
Platform: Playstation 3
Year of Release: 2008
Developer: Evolution Studios
Publisher: Sony Computer Entertainment
I feel like I've played Motorstorm, the first game in the series, fairly recently (about a year and a half ago), but as I am approaching the end of the list these two entry series will need to disappear at some point anyway. I enjoyed it at the time, but the game had its flaws for sure that put it lower down that a game like Colin McRae's Dirt series that feel like they really reward play.
Motorstorm: Pacific Rift takes the series to a tropical island, including its own volcanoes that will affect the game and race, which could be quite interesting. It'll be interesting to see whether it fixes the issues I felt.
Our Thoughts
Sadly, Motorstorm: Pacific Rift is still quite brown and there are plenty of times where the darkness and browns fade into the brown and it is difficult to see what's happening. It wasn't a constant problem, but I certainly had trouble in some places. Luckily, the game still felt a bit easier, which compensated for that a bit – while some tracks stayed fairly difficult, I did manage to get a win and second places on the brighter tracks, where this made a big difference. It's a shame too: The game is incredibly pretty, set on a lovely tropical island, but the colours sometimes hide a lot of that detail. The boundaries of the courses don't help here either – the edges of the track have become pretty unclear in places, where it feels arbitrary where you go out of bounds. You get a sudden reset, not even a warning that you're going too far, and it feels pretty unfair.
One thing that I felt I got a better grip on was the boost system. It wasn't just useful for speed, but I found it quite good at correcting my direction and getting out of my drifts. It really started helping me get ahead on the tracks. Another element of this is new to the game. There are heat and water effects, with lava bubbling out from the volcano. Your vehicle can overheat, with water giving you a chance to cool down, but you need to get to that point first. It adds an element of danger and tension to the tracks, where there's an added risk to taking shortcuts that take you past the heat and adding a different punishment if you go too far off the track. It was a nice addition and while I didn't always get it right, I feel it's a neat and unique idea.
Final Thoughts
Motorstorm: Pacific Rift is a clear improvement over the original, but it's also one that still at times puts form over function and makes for a visually nice game that becomes less playable because of its 'realism'. Higher definition systems may help this in the future, but at the moment this isn't it quite yet.