471st played so far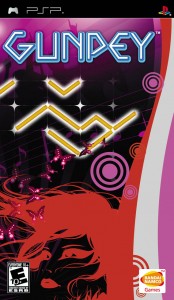 Genre: Puzzle
Platform: PSP/DS
Year of Release: 2006
Developer: Koto Laboratory/Q Entertainment/Art Co
Publisher: Bandai Namco
Gunpey is a puzzle game. It's one described by the book as a good one, the designer later making, for example, the Lumines series. It is also one we have not played yet and, as with many puzzle games, the impression you have of a game comes from that.
The goal, it seems, is to create lines from one side of the screen to the other. We'll see how that goes.
Our Thoughts
Gunpey is a simple game at heart, focusing on piece swapping like Dr. Mario, though filling up line by line with empty spaces. More complex lines give extra points and the game continues based on your mode, sticking to those basics.
It's a pretty simple concept that's pretty easy to pick up and it supports quite long play. Unfortunately, that's also the downside here. It never got quite as engaging as the good puzzle games, with the system being a bit too simple and progress being a bit too much based on luck. It's far too easy to be stuck with three columns filling up while the other two don't get any relevant pieces at all.
It's all fairly fun, but because of the dead moments the game can start to drag at times. Sure, it's not terrible, it's just not always sparking.
Final Thoughts
Gunpey is a decently fun game, but mostly in smaller bites. It didn't feel like it held up for larger games, and while I didn't put it down early, there were parts that felt unnecessarily slow, in part from the game not building to it.